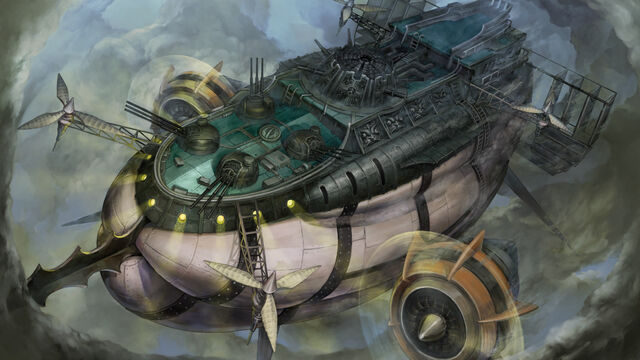 Art by Yasuhiro Fujiwara. This treasure art is unlocked by completing the quest Flying Fortress Blueprints.
The goblins were secretly sharpening their fangs against their own allies, the orcs, who had taken control of Bilbaron Fortress. The goblins' long-term goal was to build a flying fortress, the Sky Terror.
Recovered designs show it to be the size of a giant whale, able to hold over 100 goblins. It boasts twenty massive cannons, and can move at such a speed that it would be able to cross the length of Hydeland in one night. The amount of skycrime the goblins could commit with it is unfathomable.
Thanks to your efforts, their dreams were crushed before they could come to fruition. You likely saved the entire kingdom.
Ad blocker interference detected!
Wikia is a free-to-use site that makes money from advertising. We have a modified experience for viewers using ad blockers

Wikia is not accessible if you've made further modifications. Remove the custom ad blocker rule(s) and the page will load as expected.