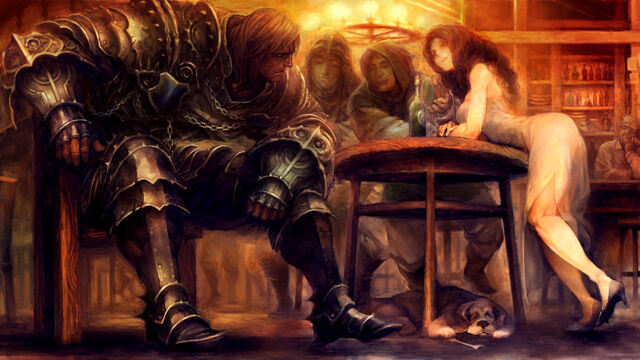 Art by Emika Kida. This treasure art is unlocked by defeating the Ancient Dragon with a Fighter for the first time. This is also the ending for the character.
Among historians, there is a lot of doubt about what you truly accomplished, likely because you never spoke of it yourself.
Only when Hydeland's official records of the hero who defeated the ancient dragon were published did your deeds come to light. Those records chronicle your deeds in many lands. At the end of each, you return to Hydeland and drink at the Dragon's Haven Inn.
The tales patrons claim you told, of the land in the sky, or the one ring, become oral tradition passed on for generations. The last mention of your name says you ventured far into the sea in your seventies, but even after a half century, some still wait...
Ad blocker interference detected!
Wikia is a free-to-use site that makes money from advertising. We have a modified experience for viewers using ad blockers

Wikia is not accessible if you've made further modifications. Remove the custom ad blocker rule(s) and the page will load as expected.