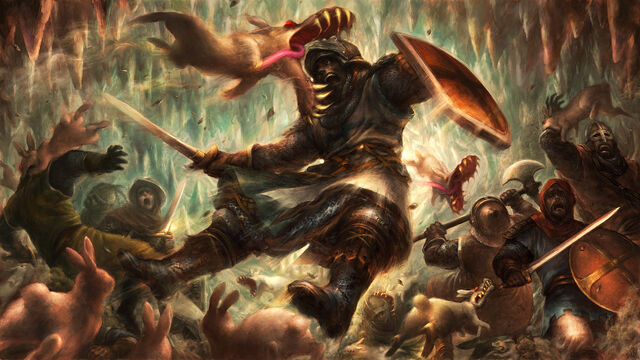 Art by Emika Kida. This treasure art is unlocked by completing the quest A Beast Most Foul.
A number of years ago, when a group of knights pursuing a holy relic stepped into a cave, the ones that fled reported that their retinue were viciously waylaid by a rabbit there. Rumors of this foul, terrifying lagomorph spread.
Today, many bloodthirsty knights in the neighboring country of Bolga, in an attempt to make a name for themselves, go to challenge the killer rabbit. They only manage to increase its body count.
The duplicitious duke made this request in an attempt to generate a similar phenomenon in our kingdom. However, as long as a true hero like you calls Hydeland home, such attempts at trickery will be in vain.
Ad blocker interference detected!
Wikia is a free-to-use site that makes money from advertising. We have a modified experience for viewers using ad blockers

Wikia is not accessible if you've made further modifications. Remove the custom ad blocker rule(s) and the page will load as expected.