Sorceress

Character Information

Weapon(s):
Staff
Style:
Defensive, support
STR:
E
CON:
D
INT:
A
MGR:
S
DEX:
B
LUC:
A
[Recommended for expert players]
A witch who controls magical forces at her whim. She has high magic defense and good support magic
"Bewitching women with knowledge of dark magic. They are weak of body, but the great knowledge they wield of the arcane arts cannot be ignored. Sorceresses can create delicious food, control skeletons, and turn foes into harmless frogs. A jack-of-all-trades support class, they can provide aid to their friends in countless ways." - Sorceress description in Atlus Dragon's Crown website.
The Sorceress is the only class that can create food. With this skill and in conjunction with her other abilities, she can handle long solo runs more easily than other characters. It's best to use her defensively and it's particularly useful in long chain runs at higher difficulties.
Strength - E
Constitution - D
Intelligence - A
Magic Resistance - S
Dexterity - B
Luck - A
Techniques
Edit
Blizzard - A spellbook where the Sorceress summons a blizzard that hits everything on the screen multiple times for the duration of the spell. Increase in levels allows more spell usage, power, and duration.
Thundercloud - A spell where the Sorceress summons a thundercloud that strikes down lightning as it flies about on the screen. Powerful, but it isn't very accurate. Increase in levels increases the power, duration, and spell usage.
Levitation - Grants the Sorceress the ability to do an air-dash after a double jump. It also increases the power of aerial spells.
Ice Prison - The Sorceress summons 2 vertical rows of razor-sharp ice spikes that remain onscreen for a short time and do continuous damage to all enemies that touch them, as well as limit enemy movement until they dissipate. Increase in levels allow more usage and increase damage inflicted.
Summon Food -  Self explanatory. Increase in levels allow food to restore more health.
A full list of the Sorceress's Skills can be found here .
Play Style
Edit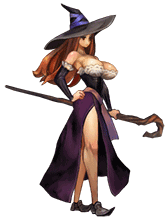 Strengths & Weaknesses
Edit
While the Sorceress does have some offensive spells, they are not as strong as the Wizard's. Her skills lie in her ability to support others, summoning armies of undead minons by re-animating the corpses of fallen foes. The Sorceress is good for building up a small army, as well having the ability to conjure delicious food, shielding the entire group, freezing the enemies and is the only character who's MP slowly regenerates over time. In addition, she can also turn her foes into harmless frogs or into stone. She is a great asset for a successful group, especially in Infernal mode.
The Sorceress' weakness is her physical defense which is the lowest of all the characters. In duels, the Sorceress can be put down very easily if you can get to her without her magic shield up. She still can freeze, stun, snare, frog, petrify, paralyze, burn, and summon up to 4 skeletons which makes her one of the most versatile heroes of the game. Also keep in mind the Sorceress can also use her Dash Attack which can easily knock enemies a good distance away from her. If used with good timing, you can cause damage  and keep enemies off you at the same time. Utilizing the Sorceress' Dash Attack could mean the difference between defeat and victory as it provides enough damage to deal the final blow when you don't have time to charge your magic. 
Ice staffs have the lowest damage of the three types, but have the highest support ability. All ice attacks can freeze enemies. Her ice tornado can reflect ALL ranged and fireball attacks (arrows, thrown daggers, and even certain boss attacks). 
Fire staffs have the best DPS, but are 100% useless in water. Against the Kraken only your midair fireballs will work.
Lightning staffs do medium damage, but have the best range. Their attacks go across the entire screen, and up the entire screen. Her midair charge attack hits all around her with high knockdown, but low power. This staff is great if you want to stay far away and hit big bosses. Not recommended for the Killer Rabbit.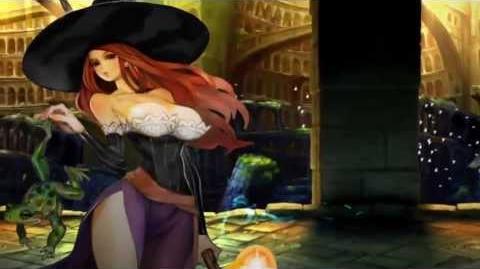 References
Edit