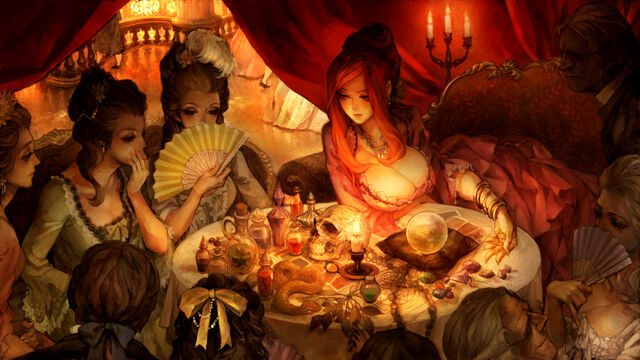 Art by Emika Kida. This treasure art is unlocked by defeating the Ancient Dragon with a Sorceress for the first time. This is also the ending for the character.
You became quite a hit with the nobles. Perhaps they thought an alluring, powerful sorceress could grant their every desire.
Enticed by the glamorous life you'd always dreamed of, you do prophecies and palm readings to enjoy life in high society. People criticized you for trading in your old life for the finer things, but that wasn't true. You were working for the kingdom.
Your prophecies were clever distractions from the nobles' worries, avarice, and ambitions. You placated all their unrest. But this mundane life bores you. You long for ale from the Dragon's Haven Inn. It isn't luxury you crave, but adventure...
Ad blocker interference detected!
Wikia is a free-to-use site that makes money from advertising. We have a modified experience for viewers using ad blockers

Wikia is not accessible if you've made further modifications. Remove the custom ad blocker rule(s) and the page will load as expected.